Hire A Private Investigator For A Cheating Spouse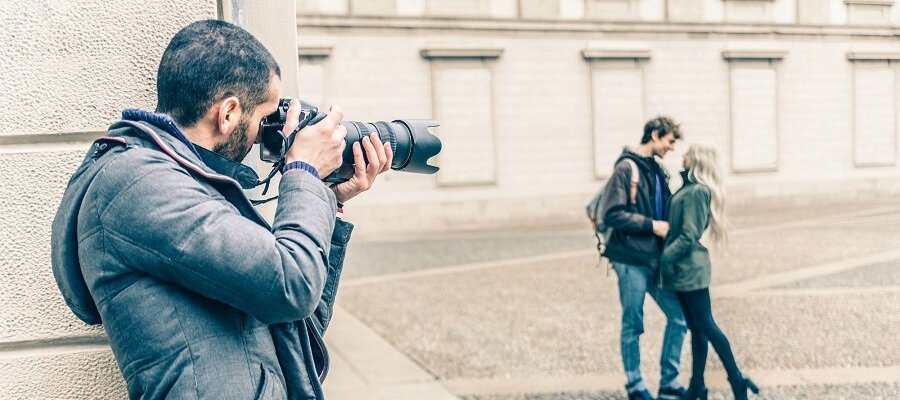 Probably one of the most used services of a private investigator is being hired for a cheating spouse investigation.
It goes without saying that when someone finds out their partner is having an affair it hurts. But what if you only suspect your partner and don't know for sure? That's when you should hire a private investigator to catch your cheating spouse and get absolute proof.
We will cover some of the important aspects of cheating partner investigations that you will probably want and should know about when it comes to investigating a husband or wife for suspected infidelity. We say suspected because at this stage there is no real proof and a private investigator can help you get it.
So, we will go over some of the benefits of hiring a private investigator to catch a cheating spouse, what to expect before, during and after the spousal investigation, the methods, the costs, and what your options will be if cheating is proven. But first...
What are the usual signs of cheating?
You will find the answer to this question on many marriage and divorce type websites and all have different answers and opinions. The fact is there are literally hundreds of signs your spouse is cheating, some more obvious than others. Lipstick on the collar, someone else's perfume or aftershave on your partner's clothes, hiding text messages, sneaking out to take a phone call, staying late at work, are just a few. A private investigator is not so concerned with these inconclusive signs of cheating, although they do play a part at the beginning, a private investigator is concerned with getting proof; if indeed an affair is taking place.
What Are The Benefits Of Cheating Spouse Investigations
There are many benefits of hiring a private investigator for a cheating spouse investigation but ultimately the main benefit here is finding out if your partner is cheating on you or not. But if not cheating, an investigator could help you find out what is occurring that's making the relationship fail. Just to be clear, a
failing relationship doesn't necessarily mean your wife or husband is having an affair.
There are a number of possibilities that can cause a partner to be distant, uncaring and unfeeling; such as drug use. The difficulty is in not knowing for sure, which is why hiring a private detective to uncover the real reason is hugely beneficial.
Some benefits of hiring a detective for spousal infidelity are:
They will act impartially and report objectively on any findings.



They have the skills and training with particular methods to conduct infidelity investigations.



They have the specialist equipment enabling them to document and record evidence.



They can act as a professional witness in future divorce court proceedings.
Expectations Of Hiring A Private Investigator To Catch A Cheating Spouse
You decide to hire a private investigator to catch your partner cheating, what happens next? Well, o
nce you've made the decision to investigate possible relationship infidelity you need to make sure you
know how to hire the right investigator for you
.
Most private investigators conduct infidelity investigations as part of their services but some more than others. It's a good point to
ask questions about the private investigator's experience
concerning spousal infidelity cases.
Should you hire a male or female infidelity investigator?
Whether you should hire a male or female investigator is a point of personal choice. But it can be said that
female private investigators do have some advantages
when dealing with infidelity investigations.
People are generally more suspicious of males sitting outside homes, schools, etc. when conducting spousal surveillance, whereas females tend to get overlooked.
How do private investigators find cheating spouses?
The most common method is to conduct surveillance on your spouse. The private investigator will discreetly follow your husband or wife for several days taking photographs, video, and making a detailed log of where they go, at what times and how long and most importantly who with. A private investigator may also track your spouse's vehicle and possibly install covert surveillance equipment in your home to catch them in the act.
Working with your cheating spouse investigator
The cheating spouse investigator you hire will ask you many questions, particularly about your partner's work, habits, places they like to hang out, possible people you suspect they are having an affair with, etc. You will be asked for a recent photo of your partner as well as vehicle details.
Any information requested by your investigator is to forward the progress of your case and will be considered confidential. Give the investigator as much information as you can.
What if the private investigator I hired catches my partner cheating?
Well that is entirely your decision, but the investigator you hired will provide you with photographic / documentary proof of infidelity for you to make your next step, whether it's marriage counseling or divorce. We cover divorce later on. The point here is that you now know for sure that your husband or wife is being unfaithful and with that knowledge you can now make an informed decision based on the evidence.
Do's and Don'ts - Tips on Cheating Spouse Investigations
Here are a few tips to bear in mind when
hiring a private detective
to see if your partner is cheating or not. Many infidelity cases get burnt because of not following these rules below. So if you want your case to run smoothly then seriously take note of these points.
When you contact

a private investigator be mindful of how you do it

. If your suspected partner finds your emails, voicemails, or text messages to the investigator,

its game over

.



Once you hire a PI don't tell anyone

, not even your best friend - who could be the suspect your spouse is cheating with. If you tell people, people talk, and some like to gossip;

DON'T TELL ANYONE

including your mother.



Give as much information as you can,

especially on any suspicions who you think your spouse could be cheating with. The investigator will ask all the pertinent questions so just be honest with them and tell them everything.



DON'T investigate alongside the investigator

unless they specifically ask you to do something. "Helping" the investigator can arouse suspicions in your spouse. Let the professionals do their job; it's what you're paying them for.



Behave normally

. If you start acting unusually odd, particularly asking suspicious questions of your partner or friends, you risk harming the investigation. Pretend things are normal, as best you can.



How Much Does It Cost To Hire A Private Investigator For A Cheating Spouse?
Cheating spouse investigations are usually charged by the hour as there is no way of telling how long the investigation will last, or where it will end up.
The usual method undertaken by an investigator to uncover evidence of infidelity is by way of surveillance on the partner. Infidelity surveillance consists of following and observing the husband, wife, girlfriend, boyfriend's activities; watching where they go, who they meet-up with, and what they get up to. So from this you can see how lengthy the task can get and how much the price can vary from case to case.
How much do private investigators cost to catch a cheater?
You can pay anywhere between $60-$120 per hour
,
depending on a number of factors, plus expenses.
Here's a breakdown of cheating spouse investigation expenses you may have to pay for:
Special equipment hire and installation: $50-$75 a day - covert surveillance cameras / GPS trackers

Mileage: +/- $0.45 a mile

Airline fares

Tolls / entry fees: night clubs / parking
Hotel fees
Some administration costs: court case report preparation
Court appearances: charge hourly
You can help with the efficiency of you case - making it more cost effective - i
f you co-operate well with your investigator.
If your spouse is found cheating and you start divorce proceedings and your lawyer requires the investigator you hired to give evidence in court, expect to pay for their time as well as their expenses for the whole duration. You can find more information here on
private investigator hiring costs
.
Can The Evidence From A Cheating Spouse Investigation Be Used In Court?
Private investigators are bound by the laws of the land just like anyone else.
How they conduct their infidelity investigations determines if and how the evidence can be used in court.
The
private investigator you hire should follow legal procedure
during their investigation to ensure the evidence they obtain is obtained legally and can be used in court.
The methods of how evidence is obtained and what level of evidence is needed may differ from State to State or country to country, for example; a private investigator in California may need to prove certain points of law that a private investigator in Florida does not.
The private investigator you hire to follow your cheating spouse should document the events of the investigation as they go. These are called contemporaneous notes – notes made at the time or as soon as possible after any event. These notes can be used as evidence in a court of law, but is ultimately a Judge's decision.
The investigator should also compile a full written report with photographic / video evidence of any infidelity, or other behavior that would
constitute grounds for divorce
. Your investigator should know what evidence to look for and what to document.
You should only hire a private investigator that is willing to act as a professional witness in any court hearing. Make sure they understand this before you hire them. Most know that this is part of the job, but check with them first.
If you want to hire a private investigator you can search for one in our
private investigator directory
.